Has been a while since my last review.
You know what they say, being a student in Singapore isn't easy. Oh, and this apparent lack of time, is partly attributed to my poor sense of time management :p
Well, with exclusive minifigures (from May the 4th, Comic Con, Collectable Minifigure Series etc.) crashing the market in recent years, the race for rare and exclusive minifigures seems to be on for most avid collectors. Inevitably, we tend to relate them to elusive minifigures from vintage sets which are "rare" and have ceased production. Since I am more of a SW fan, it is only within my capability to name a few from the SW universe, such as Lando from set 10123, Jango Fett from set 7153 and Greedo from set 4501. Keep in mind these minifigures were not from exclusive sets with limited production. It just happened that they are no longer produced but the demand for them is still high, thus pushing the price for these little plastic up and up.
For collectors that just got back, getting these "rare" minifigures is kind of like a quest. You get one, move on, and get another one. Sadly, I am one of these collector. And keeping up with the quest isn't easy, especially for a student like me.
I mean, seriously, 300$ for a minifigure? To hell I am going to pay this price.
And so, the quest for alternatives begins...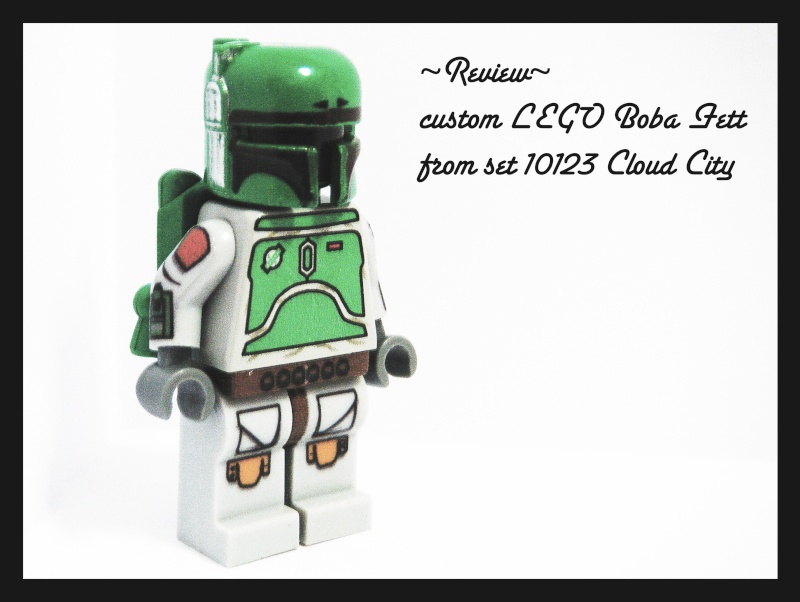 Stumbled upon this customised Boba Fett from set 10123 online. Not sure whether I am allowed to mention where but I guess if its alright, I can update the post with details of the seller.
Spent less than $30 for this custom Boba including shipping. If you compare it to the regular Boba from older sets (~$13), this is at most twice the price. The helmet piece didn't look new to me when I got it but I was more concerned with how the arms and legs look like.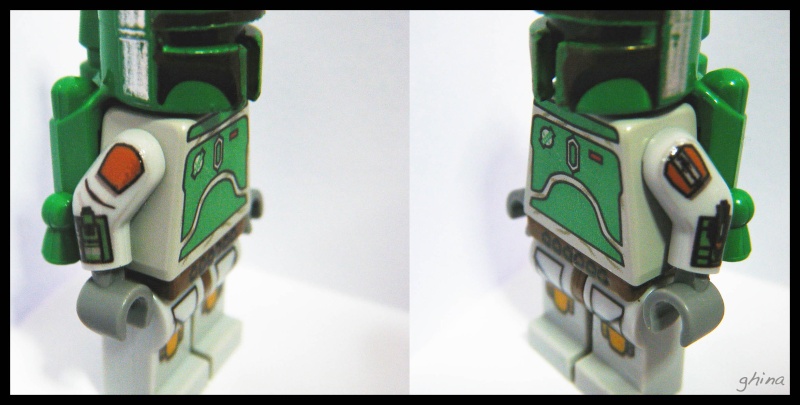 Here I have the left and right view of the minifigure. You can vaguely see this edge of the decal used. The seller uses water slide seal for the finishing so it looks a little glossy. If you have an original to compare to, the black lines on the arms seem to be thicker for this custom Boba and hence the lower resolution.
As for the legs and belt, they are really of good print. Can't find much fault with it.
When custom Boba meets Boba Fett from set 9496: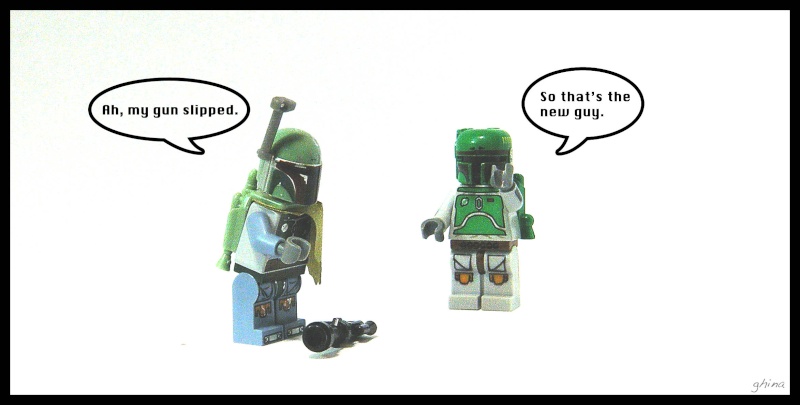 Can't help but use this as a contrast. With a better looking rocket pack, more detailed helmet and new pauldron, the new Boba is really a good example of the new displacing the old.
Rating: 7/10
Verdict: Given the price of $30, the custom Boba Fett is really an excellent alternative to its original counterpart that cost 10 times more if you are on a budget and can't live without one. If $30 is too much for you, settling for the new variant of Boba Fett which is still in the market is more advisable (:

zenelim

Post Level 4





Posts

: 192


Join date

: 2012-02-05


Age

: 29


Location

: Singapore



---
Permissions in this forum:
You
cannot
reply to topics in this forum